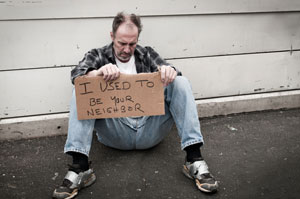 Welcome to My Neighbor In Need.
"We provide a nurturing, dignified way to connect individuals who have a specific need with those who wish to fulfill that need."
---
Our Belief!
Here at www.myneighborinneed.org we believe that every single person at one time in their life has had a need. For some, that time is right now!
We also believe that each of us has the capacity, talent and ability to help their neighbors in need.
Finally, we believe that each of us can provide help because help comes in many different forms. The first step in helping your neighbor in need is to simply care.
---
Please select an area that best serves you.
---
News Highlights!
---
Press Releases!
My Student in Need to Receive $25,000 From General Distributing!

Posted: Tuesday, December 03, 2013

General Distributing Company, a family owned business that has been serving Montana since 1948, will present a check for $25,000 to My Student in Need on Tuesday, December 3, 2013 at Noon. The presentation will highlight the pre-opening celebration of My Neighbor in Need/My Student in Need's new location at 525 Central Ave, inside Times Square, Downtown Great Falls. "There are not enough ways to say Thank You for this amazing show of support," said Dave Snuggs, Founder My Neighbor in Need/My Student in Need.

"General Distributing is pleased to partner with such a worthy organization in our community. General Distributing Company and our employees have been blessed and honored to be part of the community for 65 years. Education of our young people is vitally important and it is hard to get a good education when you are cold, hungry or both. We are humbled and honored to support My Student in Need. It is because of our employees that this is even possible." said Glenn Bliss, President of General Distributing.

My Student In Need Launches

Posted: Friday, September 27, 2013

Today we launched a new website called

www.mystudentinneed.org

. Our new website is tuned towards helping our area students in need. It works in a way similar to My Neighbor In Need except for that the only person who will ever know the name of the student in need is the teacher or school admin person who submitted the request. Also our donors get to play a more active role in the donation process. Check out our new

www.mystudentinneed.org

website for more details.
News Updates!
Community Thrift Store is on TV!

Posted: Thursday, January 30, 2014

Here is a preview of our TV commercial that will begin to air on Friday, January 31, 2014!

My Student In Need Expands!

Posted: Monday, January 13, 2014

My Student In Need has now begun expansion plans, currently to the Choteau Public School System. The website has been re-organized to allow for our future expansion plans and also a handy new feature for the teachers/school admin that will ensure they are using the correct request form for their district.