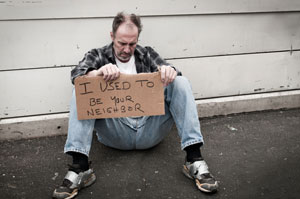 Welcome to My Neighbor In Need.
"We provide a nurturing, dignified way to connect individuals who have a specific need with those who wish to fulfill that need."
---
Our Belief!
Here at www.myneighborinneed.org we believe that every single person at one time in their life has had a need. For some, that time is right now!
We also believe that each of us has the capacity, talent and ability to help their neighbors in need.
Finally, we believe that each of us can provide help because help comes in many different forms. The first step in helping your neighbor in need is to simply care.
---
Please select an area that best serves you.
---
News Highlights!
---
News Updates!
Missoulian: Paxson student trumpets in new year with Grammy winner's instrument

Posted: Monday, January 12, 2015

A Missoula fifth-grade band student got a late Christmas present this week when she received a trumpet donated by Grammy Award-winning trumpet player Arturo Sandoval.

When band began in the fall, Paxson Elementary student Isabel Munro was excited to make the sounds that inspired her to learn how to play the trumpet in the first place.

UOM makes video about MSIN

Posted: Thursday, January 08, 2015

University of Montana students makes a story about My Student In Need

Dave's aha moment

Posted: Friday, August 08, 2014

What if there was a way to ask for help where no one knows you were asking for help?
Press Releases!
A "Mission of Hope" arrives in Havre in Six Weeks!

Posted: Tuesday, Feburary 10, 2015

Question….. How can someone ask for help in a private, dignified way and receive help from the community in that same manner? The answer is a unique website that was created by Great Falls resident, Dave Snuggs. www.myneighborinneed.org is the fulfillment of an idea that first came about back in the summer of 2001. Now just before celebrating their third-year anniversary, Snuggs is once again expanding the website's reach of Hope.

"I am excited to announce that thanks to efforts of a dedicated group of volunteers, the city of Havre will have its very own My Neighbor in Need project.

Heather Adkins to Lead the Charge in Havre

Posted: Tuesday, Feburary 10, 2015

Local Resident and Community Volunteer is Hired as the Project Services Director for My Neighbor in Need - Havre

"This is a great day! I am thrilled to have Heather as the person leading the charge in Havre." Snuggs said. "I can teach anyone the computer system, our procedures and how we do what we do… but what I cannot teach someone is how to be passionate, how to be kind and have a caring spirit. Either you have it or you don't and Heather most certainly does. She gets what we do but more importantly, she gets why we do it."

Community Coat Drive and Closet to Start

Posted: Wednesday, October 01, 2014

Last year, the nonprofit My Student in Need website fulfilled more than 400 requests for items for local school children, and approximately 75 percent of those items requested were winter coats and gear.

Story by Kristen Cates at the Great Falls Tribune. Story originally posted at http://www.greatfallstribune.com/story/news/local/2014/
09/30/community-coat-drive-closet-start/16508405/

Which is why Dave Snuggs, founder of My Neighbor in Need and My Student in Need, was happy when approached by local resident Cyndi Baker about holding a community coat drive as well as creating a community coat closet to serve those in need.

"This is such a giving community, and coats are such a basic thing," Baker said.